Climanosco was founded in July 2015 in Zurich (Switzerland) as an independent, non-profit association whose aim is to make climate sciences accessible to everyone by building a bridge between climate scientists and citizens around the world. As per its Statutes, Climanosco is to be exclusively financed by capped donations, membership fees (free for 2016-2017) and the sale of publications and other products.
To ensure a strict financial independence, we have a scheme of capped donations. In short, this means that you can donate yearly up to an equivalent of CHF2,500. If however you desire to donate beyond this yearly cap and up to a maximum of CHF50,000, you are welcome to do so. In such case, we will accept your donation as a one-off donation representing several years of capped donations and will apply a corresponding locked time. For more details on our capped donation scheme, please refer to our Terms and Conditions for Donations 2016-2017.
Thank you for your trust. Thank you for donating to Climanosco.
NEW: You can now donate in the easiest and safest manner directly through Climanosco's Shop!
Here are the details of Climanosco's account:
Bank name: PostFinance, Zürich
Account owner: Climanosco, Zürich
Account number: 61-542259-6
IBAN: CH79 0900 0000 6154 2259 6
BIC: POFICHBEXXX
For any inquiry, please contact us at:


Climanosco's identifications number (UID): CHE-415.265.288
Terms and Conditions for Donations:
---
We thank all the donors who supported Climanosco's Crowdfunding Campaign from 15 September to 15 October 2015 on Indiegogo and made it a great success!
Shown randomly below: donors wall and questions wall of our Crowdfunding campaign 2015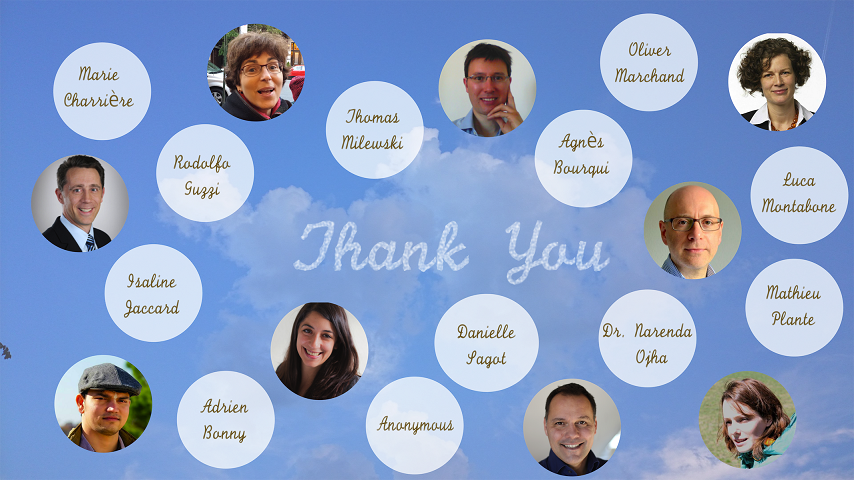 ---
Still hesitating to make a donation for Climanosco? Please watch this movie!